CDC recommends that people wear masks in public settings, at events and gatherings, and anywhere they will be around other people. Effective February 2, 2021, masks are required on planes, buses, trains, and other forms of public transportation traveling into, within, or out of the United States and in U.S. transportation hubs such as airports and stations.
What is a neck gaiter?
A neck gaiter, or neck warmer, also known as a buff, is an article of clothing accessory worn about the neck for warmth. It is a closed tube of fabric, often thick fleece, merino wool, synthetic wicking, or knit material, which is slipped on and off over the face/head. It can also be pulled up over the mouth to keep out wind, sand and other debris. Some balaclavas have a thin hood attached to what is essentially a neck gaiter. CDC recommends that people wear masks in public settings, at events and gatherings, and anywhere they will be around other people.
Neck gaiters are a popular choice for the construction industry because they can be more comfortable than other masks over long periods of time, can be more versatile, and some even made with a cooling fabric.
According to the study, titled "Efficacy of face masks, neck gaiters and face shields for reducing the expulsion of simulated cough-generated aerosols," neck gaiters worn in a single layer are nearly as effective at blocking aerosol particles from coughs as cloth masks. Worn in a double layer, the gaiters can actually be more effective than their cloth equivalents.
Face shield: blocks 2% of cough aerosols
Single layer neck gaiter: 47%
Cotton cloth face mask: 51%
Medical procedure mask: 59%
Double layer neck gaiter: 60%
To reflect the results of this study, the CDC has updated their Guide to Masks to recommend the use of double layered neck gaiters as a mask. As you can imagine from reading the chart above, the study – and subsequently the CDC – do not recommend the use of face shield to prevent the spread of the virus.
The study also underlines the fact that cloth masks and neck gaiters are meant to protect other people, not the wearer, from the spread of large respiratory aerosols, which are airborne liquid droplets and dried particles that are spread through talking, singing, coughing, breathing, or sneezing. COVID-19 can be carried through these droplets of an infected person.
It's important to note that cloth masks and neck gaiters are not considered PPE and can not be used in place of respirators for construction tasks that require them, such as concrete demolition.
Different types of neck gaiters
Seamless neck gaiters: it is a single layer, seamless neck tube, made from polyester yarn and produced directly by a knitting machine, without stitching. It is the classic neck gaiter for outdoor sports.
Spandex neck gaiter: It is also called cooling neck gaiter, made from polyester+ spandex knitting fabric(Similar as the swimming fabric). Firstly the fabric is cutting to be square shape and then stitched the two edges together and then formed it to be a tube.
Neck gaiters with ear loops: avoid the neck gaiters fall-off from face, designer add ear loops on both sides of the neck gaiters.
Neck gaiters w/ filter pocket: in order to add better filter function, there is a kind of neck gaiters with inside filter pocket(15*10cm), thus the consumer can add a filter pad insert to the inner pocket.
Neck gaiters w/ drawstring: Adjustable drawstring added to the neck gaiter upper edge to make the neck gaiters fit better for different head circumference of wearers. This type of neck gaiter with a stop-end drawstring to adjust the size of the neck gaiter opening.
Seamless neck gaiter – The classic running neck gaiter
100% polyester, Size:24*48cm
Multi-function: This neck gaiter is a versatile accessory that can be used as a face shield, headband, bandana, wristband, and neck warmer.
Washable and reusable
Four-way stretch fabric that stretches and recovers on the cross and lengthwise grains
One size fits most adult and also children
The great feature of our neck gaiters is how they have so many uses. Upgrade your accessory game and find a matching face shield for each of your outfits.
Remark: Could be custom printed on one side, reverse side is left blank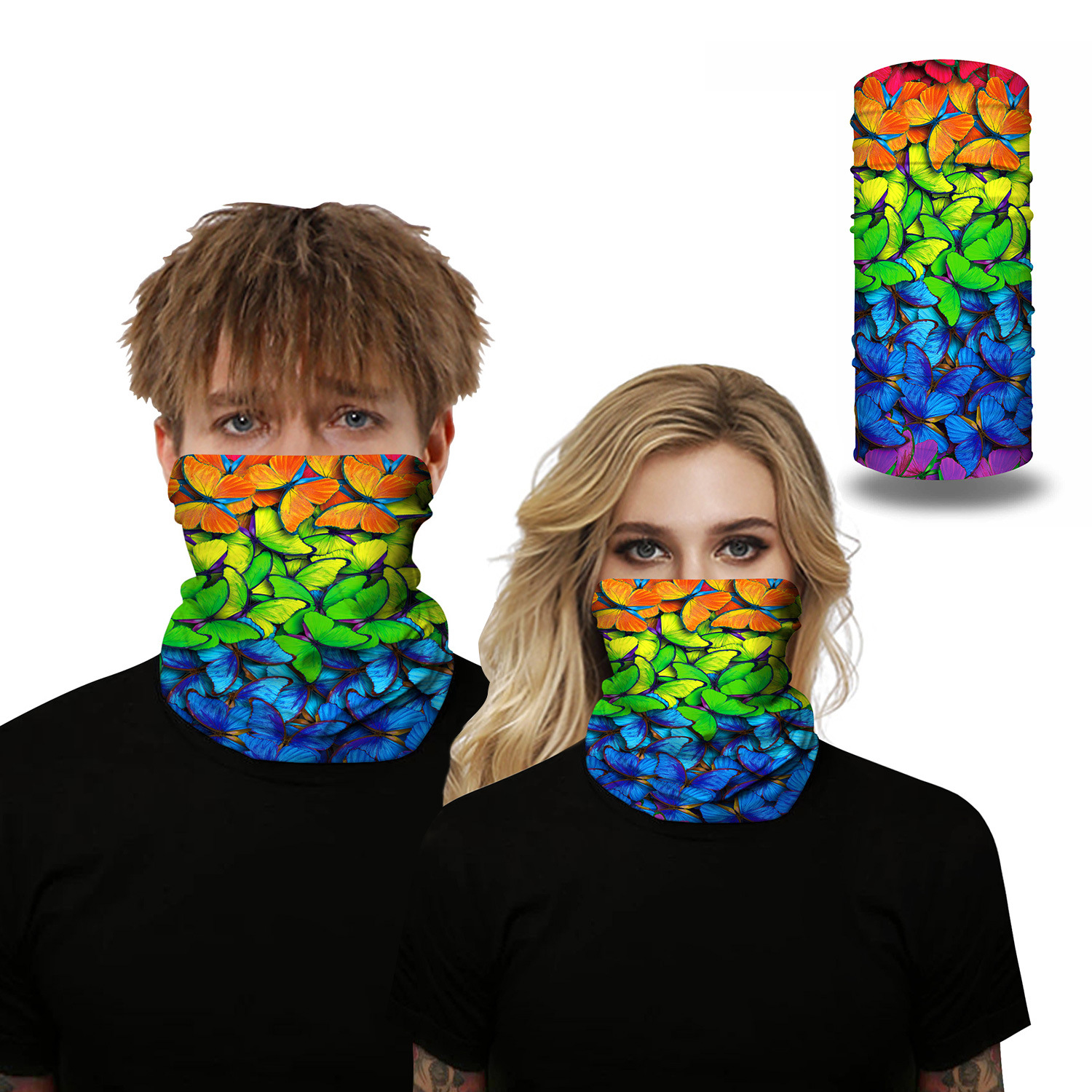 Cooling neck gaiter
Our cooling neck gaiter is made of polyester 90% and spandex 10% microfiber, with high UV protection, lightweight and durable, breathable and absorbent, elastic and quickly dry.
【Multifunctional Design】This product combines protection and fashion. Such as a neck gaiter, face scarf, bandanas, head wrap, handkerchief, sweatband, pirate hat, cap, Turban, balaclava, beanie. (Please refer to the video for usage)
【General Standard Size】Our face bandana measures 18.1 x 9.4 inches, which are durable and stretchy, great fit for heads and necks of all sizes. Not too tight or too loose, breathable and comfortable.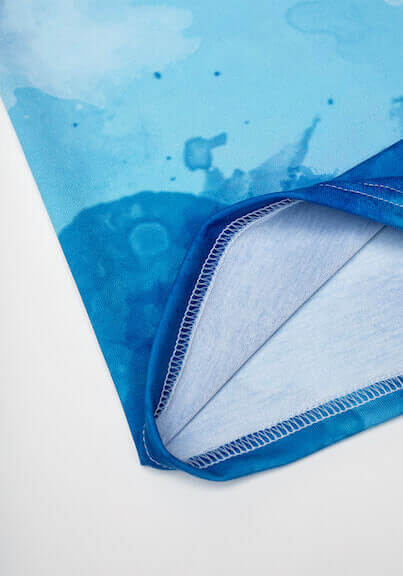 Double layer(2 layers) neck gaiter/warmer
Custom Neck Gaiter Double Layer 2-ply main features:
Custom print with your own logo on the first polyester layer to be noticed in crowd
Neck Gaiter with microfiber layer inside keeps your neck comfortable and warm, and is as cool as it is practical.
The tube bandana can be with elastic drawstring w/ stopper
Both layer polyester seamless(could be also be 92% polyester, 8% spandex lycra material)
Best choice of neck tube as it is comfortable way to keep warm while hunting in the cold outdoors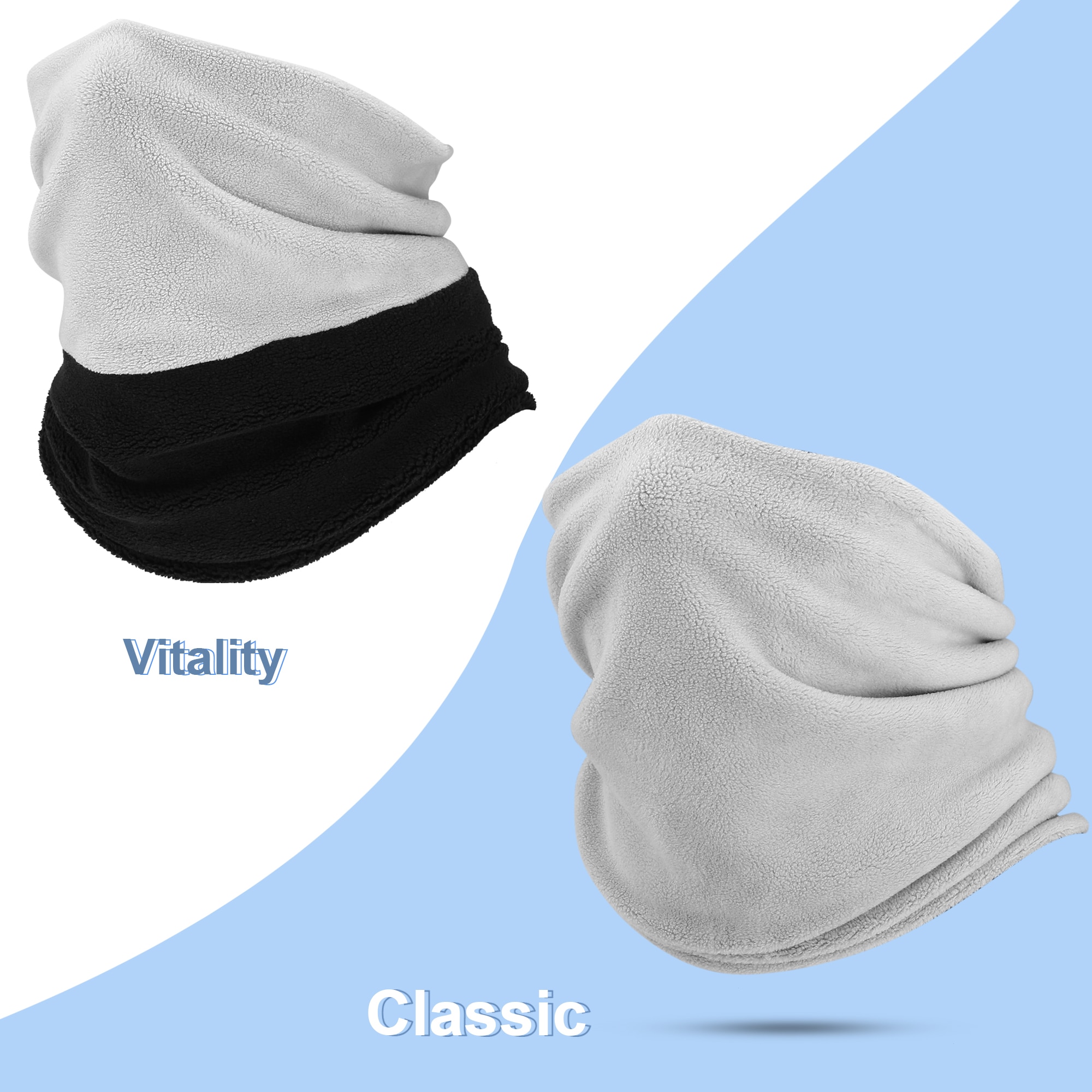 Skiing neck gaiter, balaclava
ULTIMATE PROTECTION from COLD, WIND, DUST & UV: winter balaclava protects you against the elements. Whether you're skiing in Ski Lake Tahoe or Mammoth Mountain, or driving an ATV in North American Desert
BREATHABLE: Insulated mesh fabric prevents fogging up your glasses or goggles; With a refined sewing process and durable material, winter balaclava is flexible and for long-lasting use
COMPLETE HEAD & NECK PROTECTION: Three equipments in one means 1 balaclava = 1 face mask + 1 hat + 1 scarf. balaclava can be worn as a full face mask or cap. It is also a warm headgear, especially use in the winter, protecting your head well from frost and winter
ULTIMATE COMFORT: ski mask provides all-day comfort by keeping you warm and dry. It has a stretchy, lightweight and breathable mesh around the nose and mouth that protects your face while wicking away moisture. Thermal Dry fabric around the head provides premium moisture transfer to dry fast.
ONE SIZE FITS MOST: Both for men and women with a head circumference around 25". If you are enjoy it, send it to your family members, friends, or people you loved as a gift for Christmas, New Years, Valentine's Day, Father's day, Mother's Day etc
Fleece(laminated poly fleece) neck warmer
72.5% Polyester, 21% Rayon, 6.5% Spandex
Soft and Light as Wool & Warmth: Different from the bulky winter neck warmer, this winter neck gaiter scarf is made of superior fiber composited fabric that can be stretched in all directions, it's soft, lightweight, breathable, wrinkle-free, no fade, and no pilling. The single weight is only 60g so does not cause any burden on the neck. With soft fleece lining to cover your neck completely to trap heat inside. Perfect for winter and cold weather against cold air and snow.
Adjustable Face Mask Scarf with Drawstring: The fitted neck gaiters face mask has elastic band on the top at the back. It allows you to properly tighten the mask so it'll stay in place over your nose. Won't slip off while talking, moving head or doing vigorous exercises. Moreover, the upgraded drawstring is flat strap instead of round band. The right amount of stretch without choking tension prevents face and ear from hurting, and it will not fog the glasses.
More Meticulous Protection: Please note that most neck gaiters on the market cannot protect your outdoor breathing. So we have additionally provided 10 carbon filters to protect you, such as smoke, sand, pollen and so on. If you only go out for shopping briefly (2-3 hours), Then a piece of filter will be enough to support your use for a week!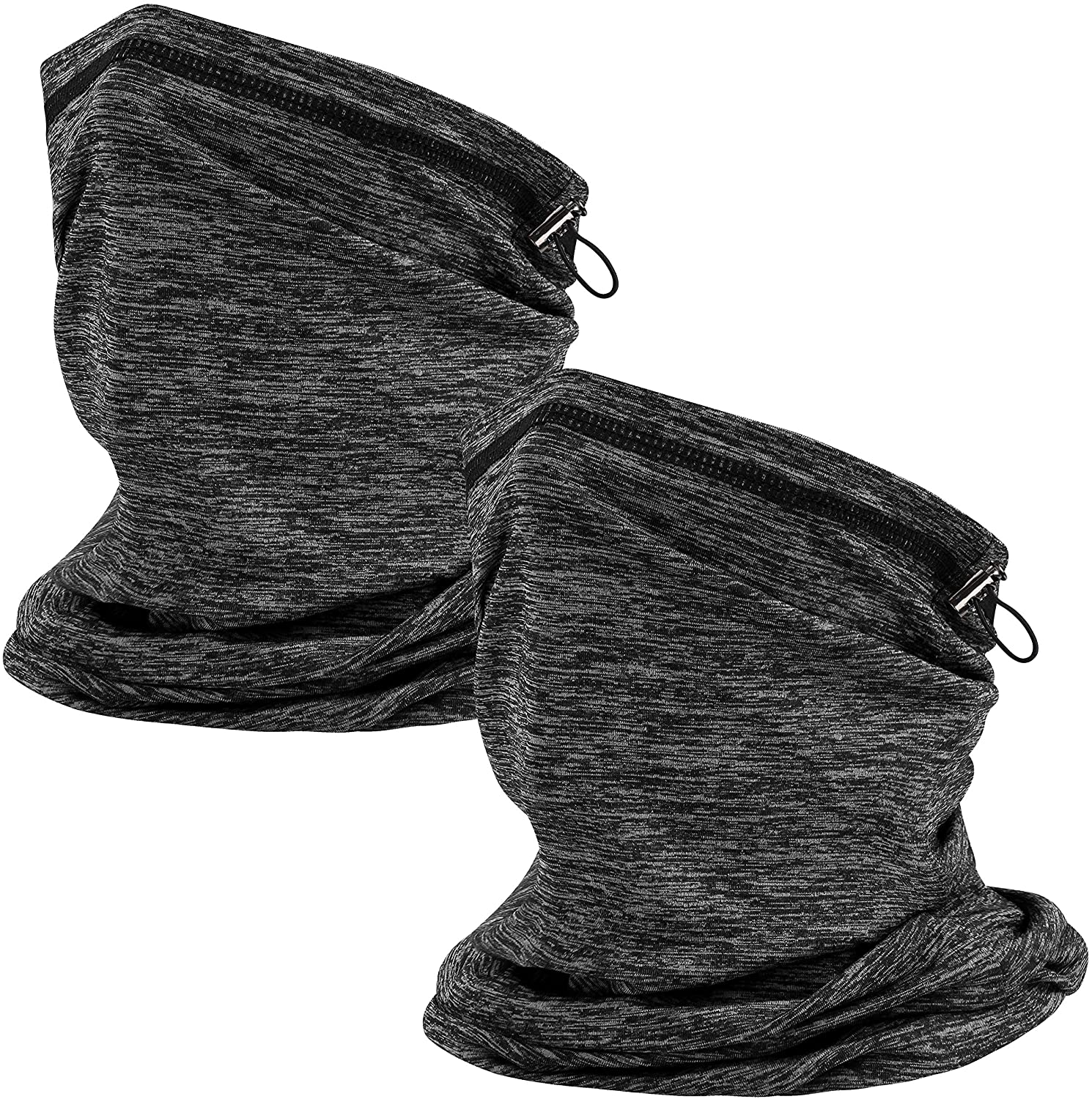 Cotton neck gaiter
100% Cotton material
This tube bandana features a stretchy cotton spandex printed fabric that slips over the face to cover the mouth and nose.
It can be worn in a multitude of ways such as a dust mask, balaclava, beanie, head covering, headband, head wrap, wristband, neck gaiter etc.
One size fits most. Stretches to accommodate small to large heads.
Neck gaiter for kids
Breathable fabric:The face scarf are made of 95% Polyester and 5% Spandex.It is the moisture-wicking and quick-dry fabric that keeps kids cool all day
Stretchy&Durable: This sun face mask features 4-way stretch to increase the elasticity, keeps in place and does NOT slide even when children are playing in the playground. Upgraded stitched edges prevents effectively from fraying and rolling up, thus ensuring a long service time of the face scarf
Perfect protection with comfort:This bandana face mask is made of polyester microfiber, which can absorb sweat and dry quickly. It's breathable and lightweight that increases comfort in use.Our neck gaiter keeps your kids cool in the sun and warm in cold weather.It reaches UPF 20 to protect you from harmful UV and guards children against wind and dust
One size fits all:The natural length and width of face mask bandana is 11.8 x 7.9 inch, fits for heads of average shapes and sizes 4-12 years old boys and girls
Neck gaiter w/ filter pocket
Tested, True All Day Comfort: Your face deserves the best, so you need a Koparco. Finally, masks that men and women can wear comfortably, all day long and adjust as need using the unique, draw-string design. Soft, lightweight, breathable and easy to clean; it doesn't get much better than these neck gaiters. No matter where you're headed, inside or out, this mask will protect you from wind, sun and filter through the rest using replaceable carbon filters.
200+ Carbon Filtered Hours Off Use: A mask that's actually breathable, finally. The 10 carbon filters included will reduce your inhalation of all the bad stuff: pollen, smoke, gas, chemicals, dust and other particles. And with 20 hours of use for each filter, you won't need to order refills any time soon! Snowboard longer, fish more, shop another aisle or ride farther. Stay smart and focused while you're on the go because you have a face mask you can depend on. Safety first, friends!
The Softest, Most Adjustable Mask: Have you seen everyone walking around with tight masks stuck to their face? Be squished no more with the wonderfully adjustable draw-string design & microfiber blend of your new neck gaitor. This face cover is made of strong, long-lasting polyester, spandex and as I mentioned, microfiber. Now you have a truly luxurious option for every time you need to cover up to travel, play, workout or just head out to grab that last-minute gift!
Universal Fit For Every Activity: Winter's rolling in and while you're on the slopes this year you'll need complete, breathable, fits XL heads, covering from the sun, wind & cold. You'll want to keep your neck gaiter handy for next summer, too, when you're kicking up dust & dirt in the garden. You'll need another still when you head out on the boat fishing all weekend. No matter the sport or errand, neck gaiter covering is the thin, effective protection you need.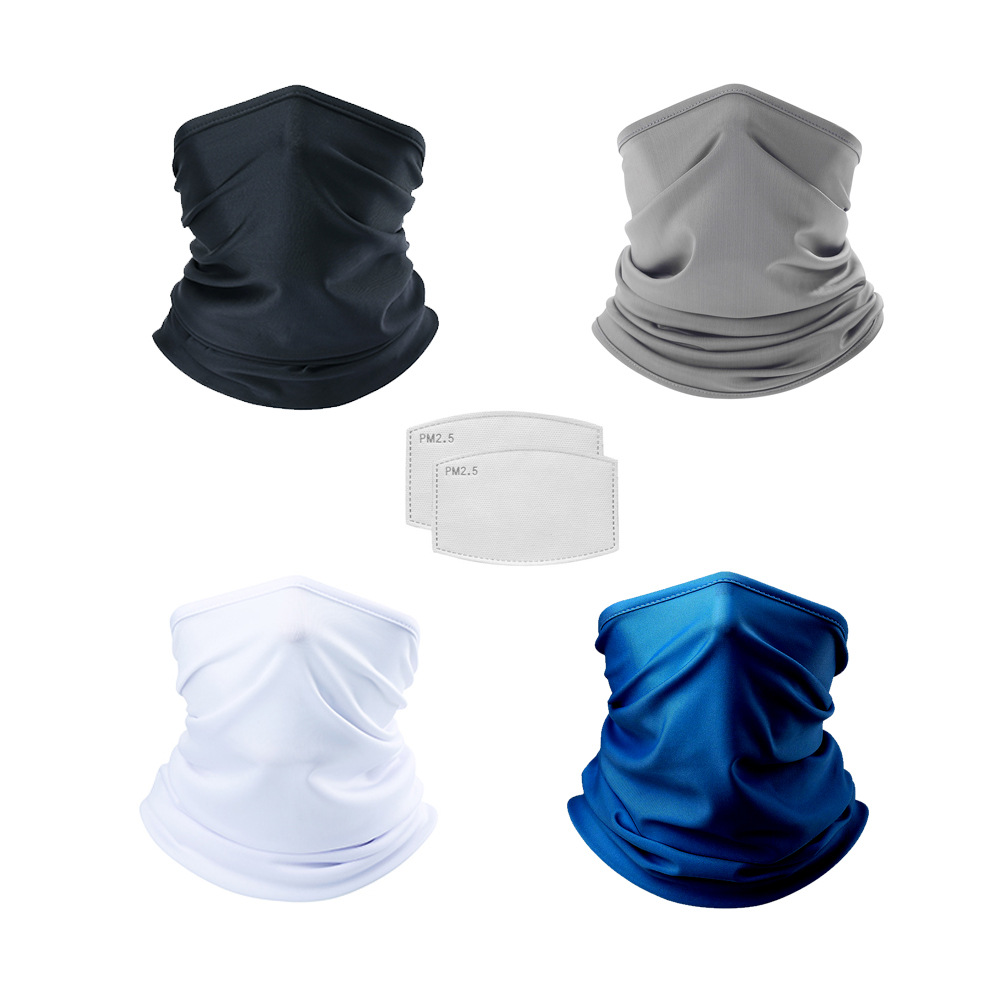 Neck gaiter w/ ear loops
COOLING FABRIC: This cool face cover made with true cooling fabric, make you feel cool in the hot summer, offer well protection for your face and neck.
UV400 PROTECTION: UPF50+ sun mask block over 99% of damage from UVA & UVB RAYS, effective protects you from sunburn in the summer.
ELASTIC & COMFORT: Our cooling neck gaiter is made of stretchy fabric, making the face mask easy to put on and remove. Fits most people(men, women, teenagers).
MANY WAYS TO WEAR: Can be used as a face mask, neck gaiter, headband, beanie, wristband and more. Fits the head circumference between 51cm and 59cm.(20.08-23.23 inches)
MULTI USE: Perfect for daily commuting, cycling, running, climbing, fishing, traveling, golf or other outdoor sports.(Please note that the black yellow neck gaiter hasn't ear loops, only the all black and all white neck gaiters has)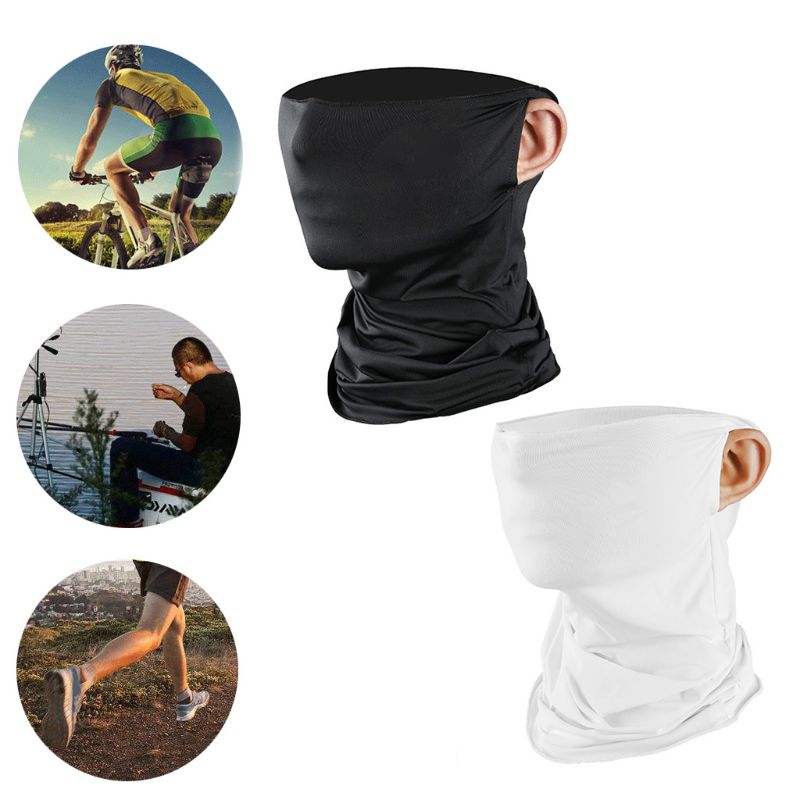 Adjustable Neck Gaiter Balaclava w/ drawstring
【 Upgraded Non Slip Integrated Ear Loops Design 】: You won't be bothered by the slipping of ordinary magic scarf anymore when you are running, jogging, cycling, biking, riding, motorcycling, fishing, hiking, camping, trekking, hunting, yoga, mountain climbing, traveling and doing any other kinds of outdoor sports with these face and neck gaiters having two ear loops.
【 Lightweight Breathable Material and Hemmed Edges 】: These face and neck cover are made of stretchy soft and breathable cloth fabric, which will offer you a cool feeling and sun protection during the hot summer days. Compared with other regular version of neck gaiters, the edges of these face covering scarves are seamed to prevent rolling and fraying after using or washing.
【 Multi-functional Face and Neck Covering 】: You could wear it as a public face covering, sunshade neck gaiter mask, sports headband, exercise wristband, helmet lining, skull cap, pirate hat, summer half balaclava and so on to protect your face and neck from the sun, dust and wind in the sunny and windy days of spring and summer
【 Stretchy and Cooling Fabric 】: Polyester and spandex blended make the tube scarf hug you well. What's more? Not only the surface will feel cooling but also the lining will cool you down after soaking it into the water and wring off the extra moisture.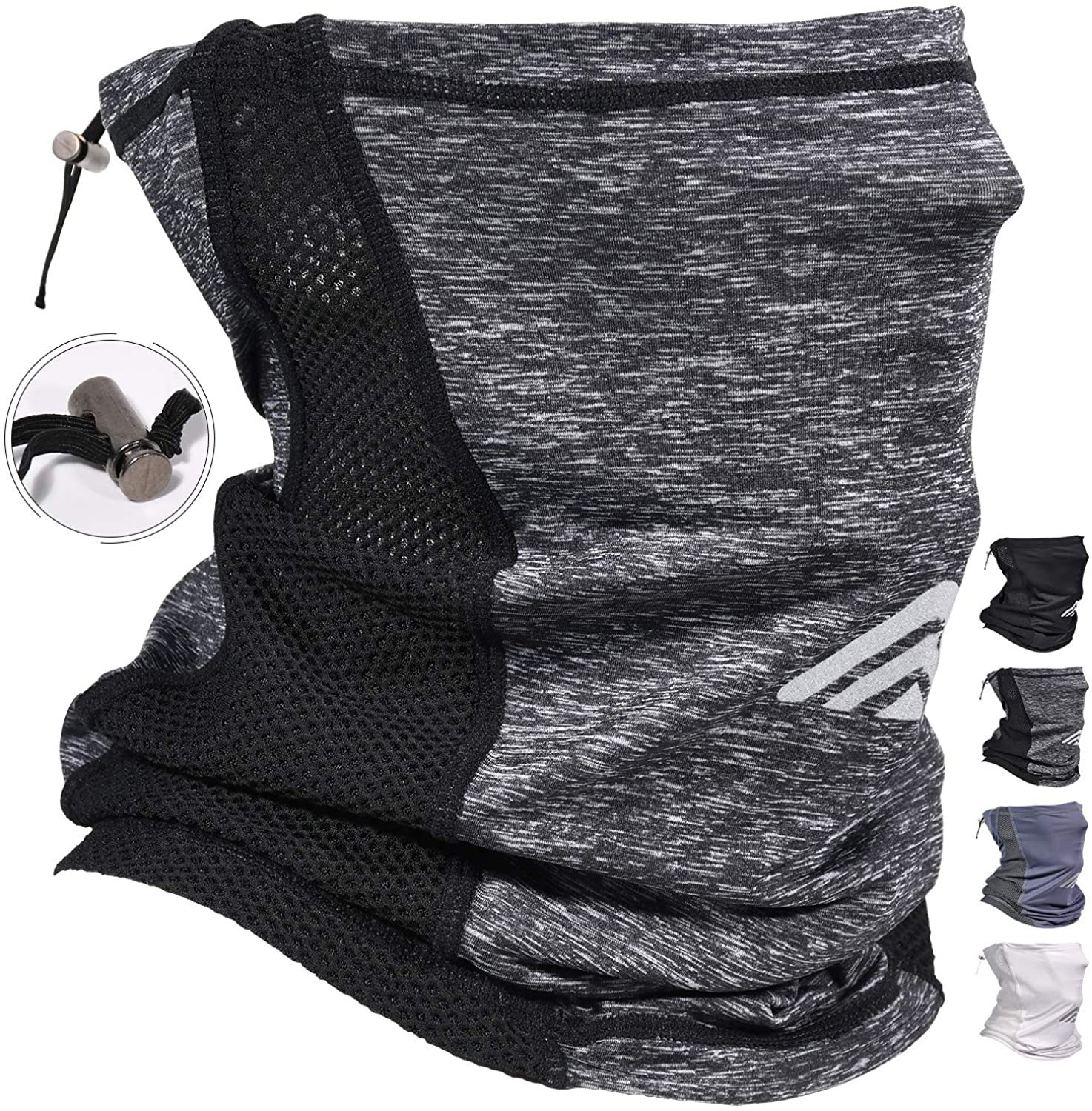 Tie dye design Neck Gaiter
One size fits most: the summer face cover measures approx. 19.7 x 9.84 inches in length and width, the stretchable circumference is about 21.25 – 25 inches with a thickness of 0.5 mm
Breathable material: the neck gaiter is made of quality polyester and spandex, digital printing, exquisite and realistic 3D design, elastic tensile fiber keeps the bandana in place and nor slide; Kindly remind, non-stitched ends for nice elasticity and will roll up naturally
Practical clothing accessory: these headwear face scarf can prevent you from sun, wind and dust, nothing can get in the way you having the time of your life, breathable and lightweight, easy to carry and store, allow you to do exactly what you want
Reflective Safety Neck Gaiter
Comfortable and Breathable Materials: Ice silk and honeycomb cloth. The combination of these two fabrics makes these neck gaiters more comfortable breathable and elastic. Whether your child is indoors or outdoors, it will make children feel refreshing and won't feel stuffy, and it is an ideal choice for kids.
Three Layers Filter Protection: Each neck gaiter has a pocket, which can equip the filter and 10 filters will be included in each set. These filters can effectively filter harmful substances in the air, such as dust and debris. It gives your child stronger protection, especially at this difficult time. In addition, we also sell filters separately, so you don't need to worry about not being able to buy these filters.
Adjustable Size: This neck gaiter is equipped with a flat elastic drawstring, which can adjust its size freely. The elastic drawstring can fasten the neck gaiter and keep the filter on the child's nose instead of sliding down. At the same time, since the elastic drawstring is flat, it will not scratch children's delicate skin. This design also makes the neck gaiter won't fog up kids' glasses&googles in winter. It solves the trouble brought by other ordinary neck gaiters/ neck warmers.