How to choose a hat according to face shape
As we know wearing a hat is great for everybody, no matter the season is spring, summer, autumn or winter. A suitable hat could protect your skin and eyes from sunshine burns, can make you warm and decorate your face meanwhile. But there are too many styles of hats i.e. Fedora hat, Panama hat, Trilby hat, Porkpie hat, Flat Cap, Boater, Baseball caps etc.
For a better effect when considering esthetics, since different people with different face shapes so we have to choose a hat according to our face shape.
There mainly 5 different face shapes in the world as following, you can match your face shape with the relevant hat style.
Face shape 1: Round face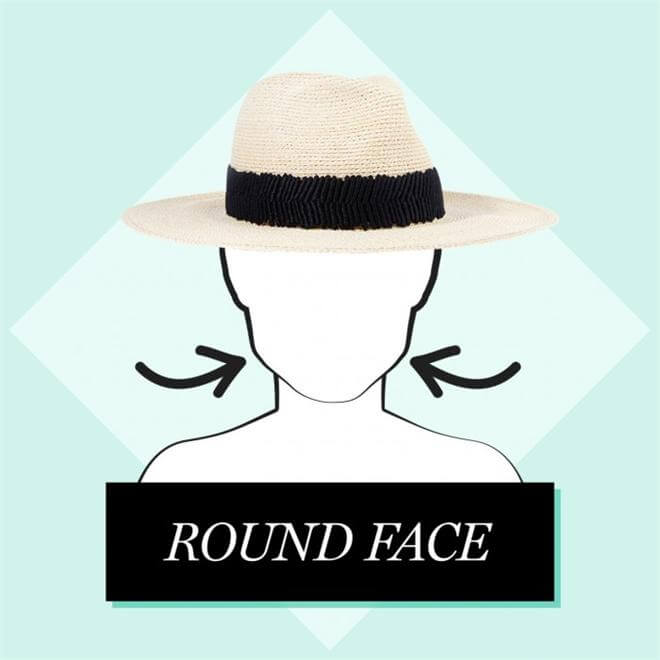 A round face is suitable for a high crowned hat with a raised crown
For a round face, the key is to increase the length, so it is appropriate to wear a raised crown hat in the middle to avoid a flat hat that will only make your face look rounder.
Face shape 2: Oval face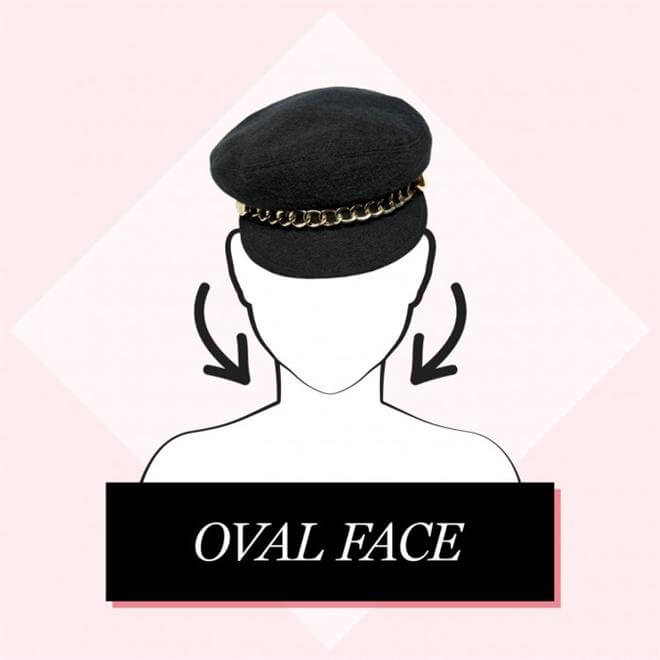 Oval face for Navy hat and Panama hat
The oval face is good for most hats, so it's best for racing. For example, a Navy hat and a Panama hat can add charm to you.
Face shape 3: Oblong face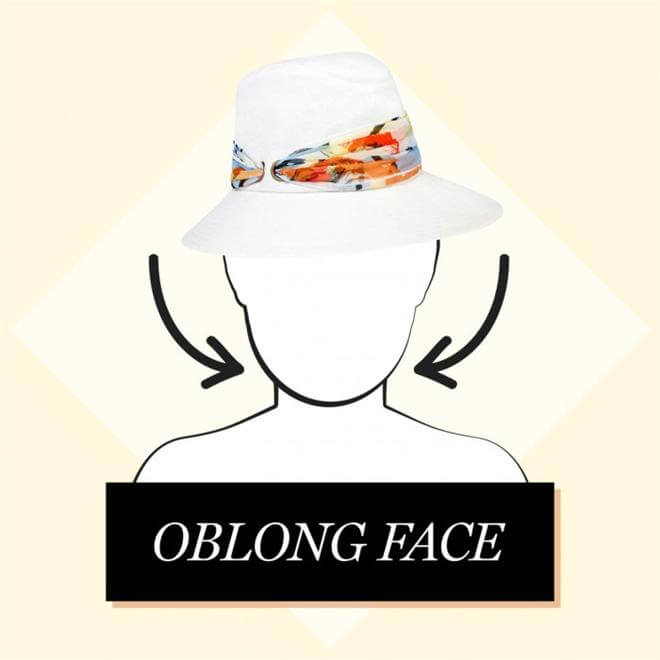 Rectangular face for wearing a narrow and short brim hat
Rectangular face for wear and short narrow brim hat, and face the edges, can choose the picture of the bell shaped cap, bucket shaped cap and a popular tourist fisherman hat.
Face shape 4: Chinese characters face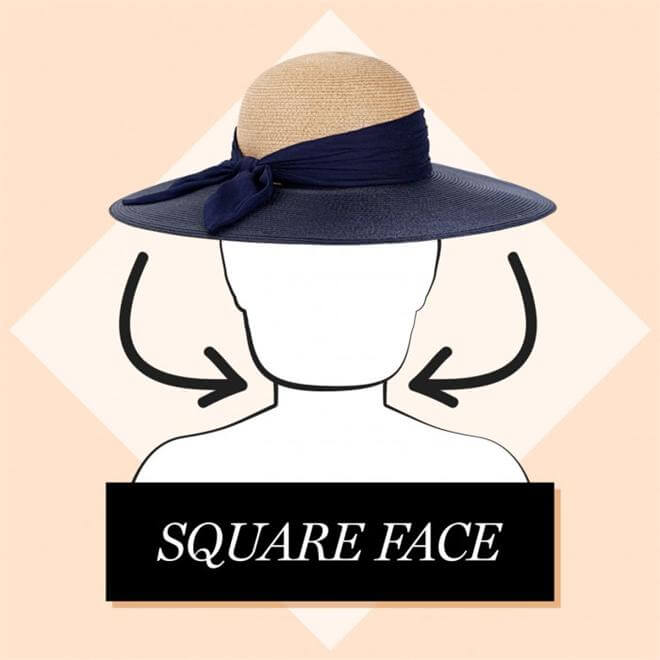 Chinese characters face down slightly for wide brim fur and bowler hat
Chinese characters face features of the square is the "angular", it is used to soften the face shape. Slightly down the wide brimmed bowler hat and fur can increase your face arc.
Face shape 5: Heart face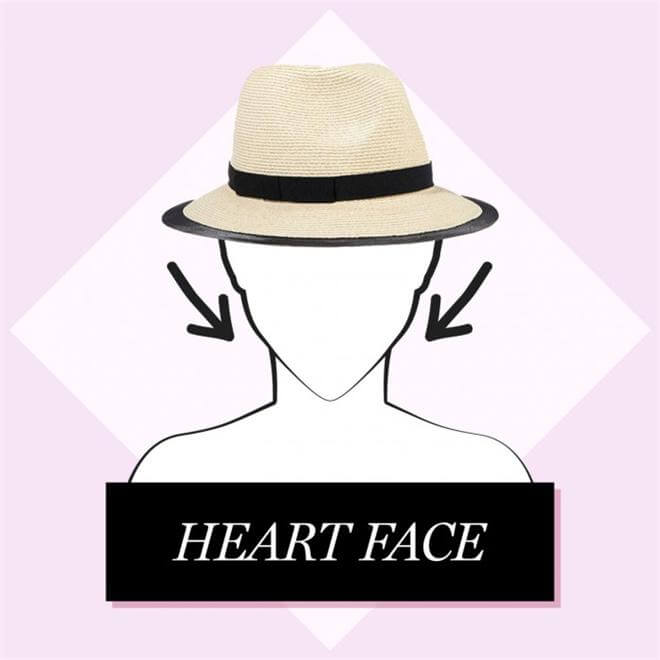 Suitable for medium width brim
Heart Face feature is the forehead, chin, narrow, so the crown is suitable for medium width peak and medium height crown.
Also here below we list for the mainly feature hat styles what kind of face shape will fit well ,you can refer to this when you select a hat :
Fedora Hat
We can often see a graceful bearing gentleman wearing a soft felt hat made by a gentleman in old movies.That is called Fedora. Memory is often associated with images of American old school Gentry, Chicago gangsters, and private detectives.
The Fedora is the first by the bonnet evolved, by 1970s, only the old man still wearing it, until the Michael Jackson to save it, make him become a kind of fashion accessories pose.
A typical Fedora hat high 11-12 cm, about 3-4 cm and a top hat, "pinch" the other. Fedora style has a lot of changes, mainly to see the three places: taper, brim and bandage. We can choose different taper, a gentleman cap to match our face.
Short face: choose a larger taper to lengthen your face, but not too high. Avoid the wide brim, it will make your face appear shorter.
Long face: the crown is medium or short to make the face look not so long, you can choose some wide brim, worn when slightly tilted a bit, can also make your face look not so long.
Square face: wide crown and brim round Fedora will be more suitable for you.
Rounded face: a rounded face that usually does not look long, so you can choose a medium cap with a slight taper. A choice of medium can be slightly wider than the brim.
Trilby Hat
Fedora's next of kin is Trilby, and Trilby is a British variant of the Fedora hat, narrower than the border and often upturned when worn.
Trilby is also called a jazz hat. Do you think James has a lot of jazz after he takes it?.
Trilby is more suitable for the shallow narrow brim worn on the head, there is a very casual and the feeling of the sun. The shorter face and smaller head are more suitable for wear.
Panama Hat
Panama traditional clothing: men wear long embroidered shirts and shorts, women's wear dress or embroidered skirt. Panama hat is made from a plant fiber or colorful stem woven with black stripes or floral edge upturned hats, The genuine Panama hat is originating in Ecuador. Because many foreign tourists see Panamanians wearing this hat, it is called the Panama hat, its shape and we mentioned above Porkpie.
Panama hat weaving lines finer will be more expensive in the manufacturing era, only the identity of the person and the rich people can afford to wear a fine woven straw hat. Soft and delicate Panama hat is a special kind of braided grass, but unlike the domestic straw products so hard, feels the impression, feeling the Panama hat feels like delicate silk. The box with the hat is also very exquisite, and the material of the box is very soft. It looks like a wooden box and feels soft and smooth like silk. The straw hat can be rolled into a slanting triangular shape like a roll of white paper. It can be stored in a delicate box until it is opened. It won't deform and will not have any wrinkles. Wearing on the head, absolutely civilized, absolutely have a gentleman temperament.
The French writer Duras's novel "North China lover", Duras's Chinese lover conquered talented Duras, wearing a Panama hat.
Best off: Panama hats are more light style, so they're more suited to light suits, breathable linen shirts, kid's shoes, and so on.
Most suitable for face shape: in fact, Panama hat is a variant of Porkpie and fedora, but because of the origin in Barnabas, and Panama local raw materials made, it seems different. But in the face of the collocation, you can refer to the above two.
Porkpie Hat
The hat really got its name because of a pork pie. You see
Although the name is the rube, the average crown and brim like Saturn like around a circle, but a thick English gentleman taste. This hat is often and jazz, blues culture, jazz singer Lester Young was one of Sax's songs is called "Goodbye Pork Pie Hat".
Porkpie is better suited for long, long face or square face wear. A rounded cap can bring a hint of softness to your face.
Flat Cap
There is no doubt that this is the traditional British classic choice because most of the material to spend it, you know it is the lifeblood of the British people spend it. This hat is crooked, wear also can make people look slightly playful, with thick flavor of yuppie.
Brad Pitt is a crazy fan of peaked cap.
Flatcap is more suitable for the long face of the person wearing, flat and slightly wide brim will make face the problem of too long. But if your ears are too big and prominent words, suggest sideways belt, do not let too much swagger in the outer ear
Also note that, due to the casual nature of Flatcap, it is not suited to suit, more casual shirts, vests, jeans is more suitable.
Boater Hat
Comparatively, nowadays, female and young women prefer to wear such hats. You have to ask me why. I can only say that its hard corners are more suitable for women's soft face and hair.
It's not easy to wear it. Matching suits is a choice. In Gatsby, two leading characters have worn it like this
Short face and square face are not suitable for this hat. if it can lift the brim with or sideways to wear, so that the overall look not so short and.Of course, when it combined with different patterns of lace, this hat is indeed a summer garden style forced choice.
Baseball Cap
I believe everyone's love with a baseball cap, a real baseball cap brim is provided with a certain radian, generally speaking, as long as you choose the appropriate size of the head, a baseball cap is suitable for all face. The difference is in the pattern and color on the hat. Remember, don't buy green. That's right.
The Hip-hop style flat brim hat is not suitable for all people, long faced big face or side face wear are not too good, and it is suitable for a small round (it is to see the face). Of course, this kind of hat and can avoid the above on the face, is in turn with.
Knit Hat
For faces: oval face, long face, round face
Woolen cap optional original color super, many bright colors for the whole collocation can play the role of eyeball, so that the whole people very IN, very charming.
But the choice of color must match the whole, oh, or choose a more conservative black gray.
Bucket Hat /Fisher hat
As a hat type that is only suitable for wear in summer, the fisherman's cap gives a simple temperament. Because it is the soft cap type, so it was wearing stylish I suggest general collocation are mainly plain cotton material, giving clean and fresh feeling. Do not choose camouflage, do not choose camouflage, do not choose camouflage!
Fisherman's hat for a square face and a long face, because the soft hat will neutralize the face edges and corners. A round face and short face are best not to wear.
Post Source: https://www.cncaps.com/choose-hat-according-face-shape/ by CNCAPS