An average head size for Men is size 7 3⁄8 (using U.S. size), 58 cm (using European size) or 7 1⁄8 (using UK size). The average head size for Women is 7 1⁄4 (U.S. sizing) .Of course, head sizes and shapes can also differ from country to country.
Step 1: MEASURING HEAD SIZE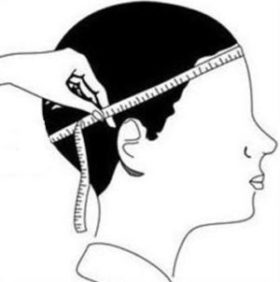 Measuring tool: a soft cloth measure tape or a string
PLACE it around your head, across mid-forehead and positioned 1/8 inches above the ears.
Measuring :hold the tape /string firmly but not too tight ,measuring the length in CM.

Find the suitable size on the hat size chart .
Step 2: MATACH THE HAT SIZE CHART
After measuring the head size you can match your head size with our hat size chart as below list –
Hat size for adults & children:
ADULT HAT SIZE

Head Size in inches
US Hat Size
General Hat Size
Metric Size
20 7/8
6 5/8
Small
53cm
21 1/8
6 3/4
Small
54cm
21 1/2
6 7/8
Small
55cm
21 7/8
7
Medium
56cm
22 1/4
7 1/8
Medium
57cm
22 5/8
7 1/4
Large
58cm
23
7 3/8
Large
59cm
23 1/2
7 1/2
Extra Large
60cm
23 7/8
7 5/8
Extra Large
61cm
24 1/4
7 3/4
Extra Large
62cm
24 5/8
7 7/8
Extra Extra Large
63cm
25
8
Extra Extra Large
64cm

KIDS HAT SIZE

KANGOL SIZE
AGE OF CHILD**
MEASURED IN INCHES
MEASURED IN CM
Kids Small
Under 6 months
Less than 19″
50cm
Kids Medium
–
Less than 20 1/4″
52cm
Kids Large
–
Less than 21 1/2″
54cm
The head grows to almost 80 per cent of the adult size during the children's first year. We have found that for hat sizing purposes head measurement is more important than the child's age. That is why that with the exception of infants, we do not list sizes by age. Our experience has shown us that the size small is very small and only fits infants. Please measure your child's head. OTHER THAN FOR INFANTS, AVOID SIZE SMALL.
Hint: HOW TO MEASURE A HAT SIZE
Measuring tool: A scissor type compass hat size measure tool
PLACE it inside of the hat crown around with the sweatband and open the scissor in max. width
Measuring :then you can read the hat head sizing in cm/inches from the tool